Effective Tooth Whitening for Montgomery OH 45242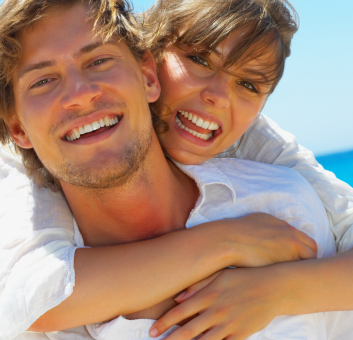 Teeth whitening is a process that can help lighten teeth and remove stains. Dentist-supervised teeth whitening comes with an individualized treatment plan to get your teeth to your desired shade of white. Tooth whitening can be done at home or in our office, depending on your needs.
At Endres Gateway Dentistry near Loveland and Montgomery, we use KoR Teeth Whitening. KoR provides treatment options for both Take-Home and In-Office tooth whitening. This is a fast and effective way to give you the smile you've been trying to achieve. Visit us for teeth whitening if you are in the area, including Blue Ash.
Get Teeth Whitening Today For:
A Brighter Smile
Increased Self-Confidence and Self-Esteem
Improved Appearance
Smile with Confidence
What Are the Benefits of KoR! Teeth Whitening?
Our office has tried other systems before, including Zoom Whitening. All of our patients tell us that KoR is by far their favorite, and we agree. The benefits of KoR whitening rise above and beyond anything else we've experienced.
Flexibility | KoR is available for both take-home and in-office treatments.
Effective and Safe | The customized trays help distribute the right amount of whitening solution to help give you white teeth without gum irritation.
Fast | Dentist-administered treatment can whiten up to 16 shades in 45 minutes (more than any other teeth whitening process).
Convenient | The treatments can be used in-office or with take-home teeth whitening kit options. Use the one that's right for you!
Long Lasting | Because the KoR gel allows your teeth to absorb more oxygen, the whitening agents go deeper into the teeth and remove stains that other teeth whitening systems cannot remove. Your teeth stay whiter for a much longer period of time, even without touch-ups!
Low to no sensitivity | One common side effect with teeth whitening is teeth and gum sensitivity. Due to its unique formula, the KoR process doesn't irritate the teeth and gums.
How Does KoR Work?
The KoR process is simple and effective. When you take home a KoR system product, just follow these basic guidelines to ensure that you get the most out of your whitening experience.
Wash your hands well, and brush your teeth thoroughly.
Apply the desensitizing agent to your clean teeth.
Add the formula only to the front surface of the tray. Be generous, but not excessive. Don't fill the entire tray with gel.
When placing the tray on the teeth, apply gentle pressure to the front surfaces. Make sure that it has snapped on all the way.
Leave the trays in place for the entire length of time recommended by the dental office.
Make an Appointment at our Cincinnati Office Today!
Dr. Endres and our team at Endres Gateway Dentistry are ready to discuss your tooth whitening options. Call us and set your appointment today! Visit our dentist office near Montgomery, Blue Ash, or Loveland.
Related Content