Effective Tooth Whitening for Montgomery OH 45242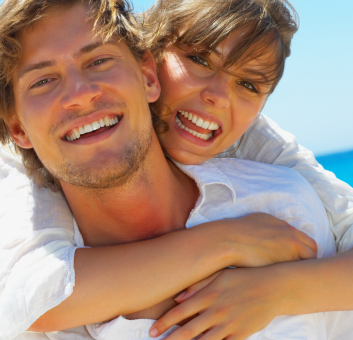 Teeth whitening is a process that can help lighten teeth and remove stains. Dentist supervised teeth whitening comes with an individualized treatment plan to get your teeth to your desired shade of white. Tooth whitening can be done at home or in our office, depending on your needs.
At Endres Gateway Dentistry near Loveland and Montgomery, we use KoR! Teeth Whitening. KoR provides treatment options for both Take-Home and In-Office tooth whitening. This is a fast and effective way to give you the white teeth you've been trying to achieve. Visit us for teeth whitening if you are in the area, including Blue Ash.
Get Teeth Whitening Today For:
A Brighter Smile
Increased Self-Confidence and Self-Esteem
Improved Appearance
Smile with Confidence
What Are the Benefits of KoR! Teeth Whitening?
Flexibility | KoR is available for both take-home and in-office treatments.
Effective, and Safe | The customized trays help distribute the right amount of whitening solution to help give you white teeth without gum irritation.
Fast | Dentist administered treatment can whiten up to 16 shades in 45 minutes (more than any other teeth whitening process).
Convenient | The take-home treatments come in in-office or take-home teeth whitening kit options. Use the one that's right for you!
Long Lasting | Because the KoR gel allows your teeth to absorb more oxygen, the whitening agents go deeper into the teeth and remove stains that other teeth whitening systems cannot remove. Another benefit of this deep whitening is that your teeth are whiter for a much longer period of time, often not even requiring touch-ups – ever!
Low to no sensitivity | One common side effect with teeth whitening is teeth and gum sensitivity. The KoR process is different from all other teeth whitening products. As a result, there is little or no sensitivity when you whiten your teeth with KoR. If you do feel some sensitivity, it will be just a small fraction of what would be experienced with other whitening processes.
Make an Appointment at our Cincinnati Office Today!
Dr. Endres and our team at Endres Gateway Dentistry are ready to discuss your tooth whitening options. Call us and set your appointment today! Visit our dentist office near Montgomery if you are in the area, including Blue Ash and Loveland.
Related Content