Get Straight Teeth With Invisalign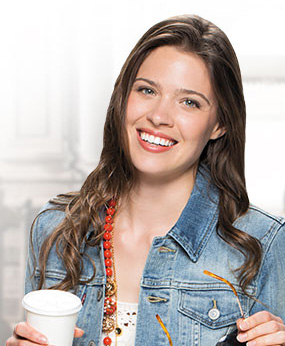 Invisalign® clear braces are custom-made aligners. Their purpose is to give you that straight teeth smile you've always wanted without having other people know you have "braces."
Discreet, comfortable, and convenient, these aligners are trusted, of high quality, and work for both teenagers and adults. The individualized treatment plan helps design your new smile and gives an accurate estimate of your treatment time. Visit Dr. Eleanor Endres in Cincinnati, including Montgomery, and Blue Ash!
Get Invisalign® Treatment in Cincinnati Today!
Get Straight Teeth Faster with PROPEL®
PROPEL Orthodontics work in conjunction with Invisalign® clear braces to accelerate treatment. Amazingly, PROPEL can help move your teeth to the position you desire up to 70% faster than with Invisalign® braces alone! And most dental insurance plans cover the additional (minimal) costs for PROPEL.
CAROL: Before and After Invisalign Treatment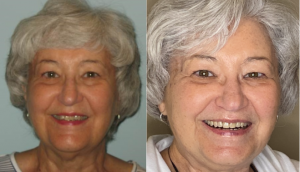 What Are the Benefits of Invisalign® Clear Braces and PROPEL?
Convenience | Invisalign® clear braces are removable. Therefore, you can take them off to eat. This makes it easier to brush and floss.
Comfortable | Unlike traditional metal braces, Invisalign® treatment does not require wires, tightening, and doesn't run the risk of broken wires cutting into your lips, cheeks, or gums.
Fast | When used with PROPEL, your teeth can be shifted up to 70% faster than by using Invisalign® clear braces alone.
Smile with Confidence | Because they are clear and see through, not everyone can tell that you have braces on. This can help give you a more confident smile.
How Does Invisalign Work?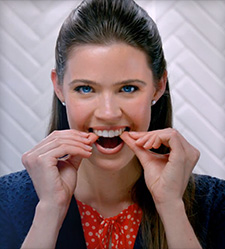 Make an Appointment | We can diagnose and assess if you are a candidate for Invisalign® clear braces. X-rays and a mold of your teeth will be taken, and an individualized treatment plan will be created.
Wear Your Aligner | Once you receive your aligner, wear it every day for 20 to 22 hours. About every two weeks, you'll receive a new set of aligners, which will advance you into the next stage of your treatment.
Attend Your Appointments | It's important that we monitor your progress. About every six weeks you'll be asked to come in so we can examine your teeth and make sure your teeth are still on track.
How Much Does Invisalign® Treatment Cost?
We are happy to provide our patients a beautiful, straight smile with interest-free financing as low as $205/month through Care Credit. And when the Invisalign® treatment is completed, we will whiten your teeth with KöR Whitening absolutely free!
Advanced Digital iTero Imaging
We are proud to be able to offer state-of-the-art digital impression services to our patients using iTero! This allows us to construct high detail digital impressions to accurately map out your teeth and plan your Invisalign treatments.
Want Straight Teeth?
Let us help create your dream smile in the Montgomery area, including Blue Ash and Loveland. Call for an appointment today!
Related Content