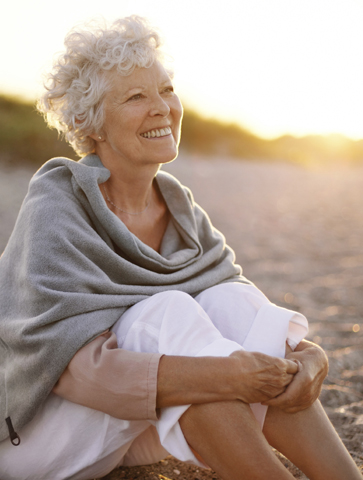 Traditional dentures consist of a removable plate or frame that holds replacement teeth after natural teeth have been lost. However, this is not the only type of denture. Permanent dentures, sometimes called implant dentures, are also available.
Denture Solutions
Visit our office near Montgomery if you are in the area, including Blue Ash and Loveland. The various types of available dentures are:
Traditional Dentures
Traditional dentures are a set of teeth that rest on your gums. They are removable and easy to slip on and off.
Custom Dentures
Custom dentures are made to fit your appearance and speaking style. They also allow you to select specific denture details, such as gum shade, texture, and ridging for a more natural look than traditional dentures.
Implant Dentures
Implant dentures are secured to your jaw bone through the use of dental implants and provide more stability and better functionality. Implant dentures are considered to be a permanent solution for missing teeth.
The Benefits of Dentures
Fully Functioning Teeth | Having fully functioning teeth allows you to eat your favorite foods again.
Youthful Appearance | Without teeth, your face can take on a sunken-in appearance. A set of dentures can give your cheeks shape and definition, making you look years younger.
Improved Self-Esteem | Missing teeth can make you feel self-conscious and insecure, unable to smile with confidence. Dentures allow you to have a full set of teeth for a more confident smile and improved self-esteem.
Process of Getting Dentures
Individualized Treatment Plan | The first step in obtaining dentures is a thorough examination and diagnosis. If dentures are right for you, we will create an individualized treatment plan. X-rays may be needed.
Create a Mold | We will create a mold of your gums using dental putty. This mold is sent to a dental laboratory to create the plate, or frame, for the denture.
Fitting | Once your denture has been created, we will make sure the fit is correct and comfortable. Follow-up appointments may be needed to ensure the health of your gums and fine tune any denture issues.
Improve Fit with Facial Esthetics | Sometimes dentures can feel unnatural and it may be difficult to adjust. With facial esthetic treatments Dr. Endres can help make the fit more comfortable for your dentures.
Visit us Cincinnati for Beautiful Dentures Today!
Whether you're looking for a traditional denture, permanent dentures, or something in-between, Endres Dentistry is here for you. 513-791-8880
Related Content